We wish you a happy and holy Advent and a very Merry Christmas!
---
NOW offering home or workplace delivery… right to your door! FREE for orders over $100!!! Click for details!
---
What's in a Name?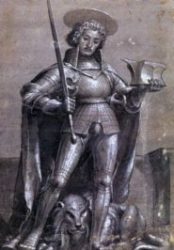 Saint Adrian Meats & Sausage is named for the patron saint of butchers. Around 306 AD in Nicomedia, Saint Adrian was an officer in the Jovian Guard under Emperor Diocletian. He often presided over the torture of Christians. On one occasion, he was so impressed that the Christians refused to renounce their faith, that he himself became a Christian. He was arrested, jailed, and subsequently tortured to death without renouncing his faith. He is also one of the patron saints of soldiers.