Ryan and Amelia both grew up in rural Indiana and working in and around agriculture. After meeting at Purdue, they knew both shared a love for being on the farm and rural life. After living in the city and following careers, Ryan and Amelia moved to Boone County to a small farm in 2010. Ryan starting raising beef, chicken, pork, and lamb. The extra was sold to friends and family and Ryan developed a new passion for craftin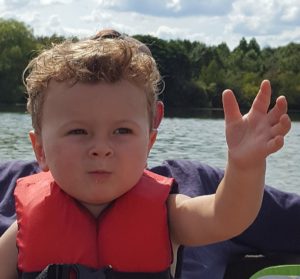 g handmade sausage, cooking, smoking and curing meat of all kinds.
We opened Saint Adrian Meats & Sausage in 2014 to serve customers with the zenith of service; offer a value-oriented product that is of the highest degree of unmatched quality, and to be a beacon of Christ's light to our community.
Ryan, Amelia and Lucas (their 2-year-old son and shop mascot!) are proud of Saint Adrian Meats, of their incredible staff, and of the very special products that are offered.
Mi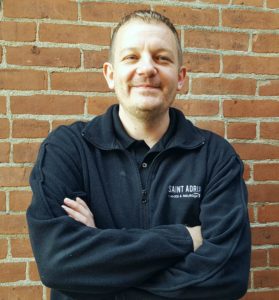 chael J. Caffee – Vice President of Business Development
Mike joined the Saint Adrian Meats team in November of 2016. With over 15 years of experience in the food industry for companies like Kashi, Kellogg's, Nestle, and Maplehurst Bakeries – Mike is a talented and unreplaceable wealth of knowledge in food manufacturing, food safety, supply chain management, and too many other things to list. He brings capabilities to Saint Adrian Meats that allow us to truly exceed our quality standards and consistency on any level. Mike's experience, ability and out-of-the-box thinking has brought Saint Adrian Meats into the wholesale markets, putting our tasty proteins in the center of the plate in several restaurants.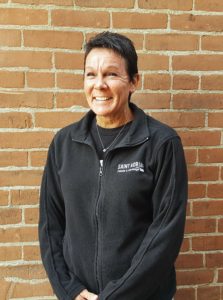 Susan Shue – Director of Facilities
If we want something done right, we let Susan do it. Susan has been with Saint Adrian Meats for over two years – and we tell her she's not allowed to leave. She is remarkable at many behind the scenes tasks, services, and duties that keep us running on a daily basis. Susan's work ethic and attention to detail in ensuring food safety, regulatory compliance and the overall "health" of all our machines and facility is second to none.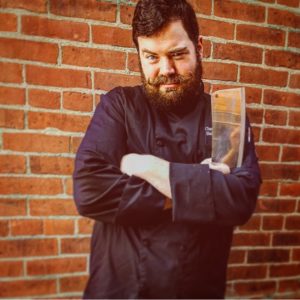 Chef Martin Gorham – Culinary Expert and Director of Catering
Chef Martin expands Saint Adrian Meats' capabilities into the world of cooked foods and ready-to-eat food service with a bang. Martin has honed his craft rising through the trenches of area kitchens- starting when he was a kid at the age of 13 in a BBQ shack in Terre Haute. Most recently, Chef Martin was the executive chef at well-known local restaurant. Chef Martin is a flavor-filled combination; part artist, part mad scientist, part technician and 100 percent talented chef. Catering weddings, corporate events and luncheons, family reunions, church picnics, classic fare or crafty-wild – everything we've challenged Martin with – his skills are always on point.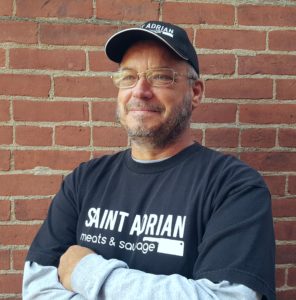 John Shue – Head Mechanic and Machine Maintenance
John keeps us running. While John doesn't exclusively work for Saint Adrian Meats – he's part of the family. John can diagnose problems with our trucks and our machines with his eyes closed, literally, just by listening or laying his hands on and feeling the vibrations. We're pretty sure he might be part machine given the way he communicates with them. Regardless, when we need help, we call John.